Engineering & structural surveys for sailing & motor yachts
Approved surveyor for leading insurance companies, MCA & MOD (Navy)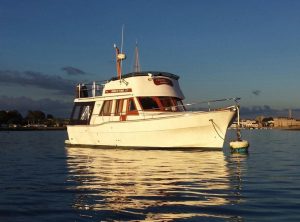 13 ton Classic Trawler – style Motor Yacht converted and re-fitted recently by John Merrett
Contact for further information
John Merrett I.Eng., MRINA.
2 Belmont Villas,
Stoke, Plymouth,
Devon,
PL3 4DP
Tel/Fax: 01752 564252
Telephone /fax is monitored by answering machine or switched direct to mobile
Royal Institution of Naval Architects Member (M.R.I.N.A.)
Choosing a surveyor who is a member of a Royal Institution ensures he is well qualified to a clearly defined and internationally accepted standard.
The Royal Institution of Naval Architects (RINA) requires its members to have a minimum qualification of a degree or endorsed HNC in the subject of naval architecture, and have at least ten years proven experience in a responsible position within a shipyard or yacht yard.
John Merrett I.Eng., M.R.I.N.A.
My own training began in the 1960s building and refitting yachts to the Lloyds standards and fishing vessels to White Fish Authority rules. During the 1970s I qualified as a Naval Architect and continued building, re-fitting and repairing yachts, fishing vessels, lifeboats and MOD vessels until September 1994. Since that date I have traded as a self-employed independent Marine Surveyor carrying the necessary indemnity insurance cover. The main part of this present day work is for pre-purchase or insurance surveys for sailing and motor yachts.
Sibyl of Cumae, the 50ft 1902 William Fife sloop completely restored by myself during the late 1980s and used every year since.
Survey prices
Standard charges for local purchase surveys are based on the simple formula of:
Length (on deck in feet) x Breadth x 1.3 = Total in £ (GBP)
Metal vessels are surveyed using Cygnus Multiple-echo thickness testing equipment.
Diesel engines are compression tested using regularly calibrated Sykes-Pickavant compression testing gear.
Survey Fees for larger vessels or for insurance purposes are normally less.
Engines of motor vessels and larger yachts are normally compression tested and there is an additional charge for the spanner work involved in dismantling machinery here.
For further pricing please contact us.